17/03/2015
Things to look forward to this year: Part II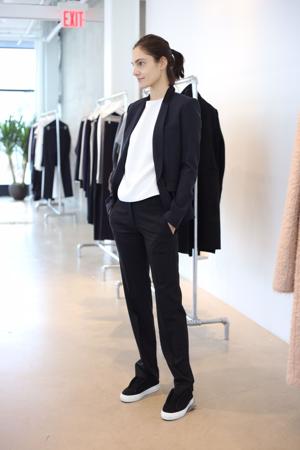 (Photo:MarieAustralia formal dress shops)
Last week we looked at five interesting trends and design houses that caught our attention on our recent New York buying trip. This week, we look at five more. Here's a preview of what will be hot in 2015!
• Helmut Lang: I was pleasantly surprised by the change in direction from Helmut Lang. Gone are the edgy twists on classic styles. His newest line has evolved with his collection, and the designer has ushered in a richer, more chic aesthetic. As a longtime fan of Lang, I am excited and curious about the change. It's a risk for the designer, and a return to the fashion house's core looks, but our buying team loved the collection and looks forward to receiving the new and improved Helmut Lang Collection for 2015: clean lines, crisp blouses, tailored suits and jackets. Trés chic!
• '70s-inspired denim: High-waisted jeans and flare legs are back in style, but don't throw away those skinnies just yet. Do add a few pieces of flare-legged denim to your collection. My favorite styles were from Rag and Bone, who showed dark washes that give off a dressier, cooler feel, but also expect to see many lighter-wash denim options. Each showroom we visited offered at least one pair of flared pants or jeans.
• Dynamic sportswear: Make room for dressy athletic wear like sweatshirts, jogging pants and football jersey-inspired tops. Athletic wear is definitely having a moment and we want to capture it! I ordered some great jersey-inspired sweatshirts sporting celebrities' names, like Cara Delevigne, Kate Moss and Beyonce. Rag and Bone showcased the best athletic-inspired apparel.
• Evening gowns: As we saw at the Oscars this year, intricate formal dresses are back in style. Lady Gaga, Emma Stone and Lupita Nyong'o all wore dresses that were works of art in their own right, and anything but plain. I was happy to see this shift in evening gowns. For fall 2015, expect decadent, extravagant and over the top!
Soji Tadashi's elegant gowns and dresses were by far my favorite line in this market. He showed leather, beads, fringe – you name it, he had it all! It was the most diverse, interesting collection by far. There were lots of jewels, beads and embroidery. All his dresses were red carpet-worthy.
• 50 shades of gray. The color for fall 2015 is none other than gray! This includes all shades, from heather to charcoal, slate to gunmetal. The color is clean and chic and pairs perfectly with a variety of other hues. Gray boots, gray eveningwear, gray handbags and gray sweaters. Mix it up with unexpected accent colors like burgundy, hunter green and even navy blue. Gray is neutral and basic and should definitely be in your closet in 2015.Read more at:MarieAustralia bridesmaid dresses