21/03/2015
Summer Bloom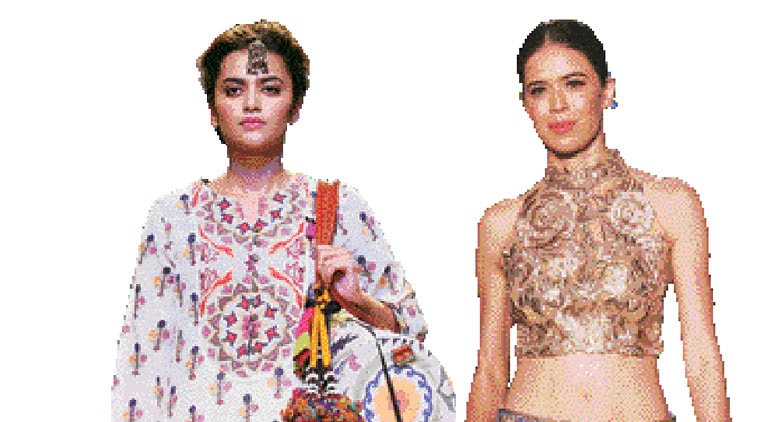 (Photo:www.marieaustralia.com/formal-dresses-adelaide)
Just living is not enough… one must have sunshine, freedom, and a little flower." Designers definitely heard Danish author Hans Christian Andersen at the Summer/Resort 2015 edition of Lakme Fashion Week (LFW). Florals may be summer's surest cliche, but that didn't stop some designers from giving them their own veritable spin. Technique took precedence over pretty prints with applique, cutwork and embroidery adding to detail and definition. Here are five collections that made us sit up and lean in closer to smell the flowers.
Layer it Up
Vrisa by Rahul n Shikha may have drawn inspiration from far-off Samarkand for their collection by the same name, but their treatment of the Suzani embroideries from Uzbekistan would fit in beautifully with most Indian wardrobes. Suzani, which comes from the Persian suzan meaning needle, was illustrated beautifully in the layered applique rendition of the floral motif. The Jaipur-based designers painstakingly appliqued seven layers of mulmul in varying colour dyes in progressive patching on to pristine handlooms, to create various
floral buttis.
Blue Label
Manish Malhotra's "Blue Runway" collection, in association with the WEvolve campaign, was predictably bathed in the hue. The rose was his leitmotif and was splashed across flowy gowns, lehenga skirts, swish sari drapes and crop tops. In his trademark touch, Malhotra used embroidery, especially Parsi gara thread embroidery, quite extensively. The flowers were magnified in places and peeked from shoulders and sleeves in others, including menswear. Elsewhere, gold zardozi roses were adorned with smaller flowers and loaded with sequins in different shades of gold for a three-dimensional effect.
Cut it Out
Florals are favourites for Archana Rao of Frou Frou. And they made more than a passing appearance in her collection "The Apartment". Starting with a faux leather shoulder cape with cutwork flowers and pearl minutiae, she moved on to beads of different sizes, giving the flowers a mosaic-like rendition. Our favourite was a marsala tunic in twill fabric with extensive cutwork and embroidery.
Pastel Pick
Giving a different twist to love were Shikha Grover and Vinita Adhikari of Ilk whose collection "Love Me Not" used innovative layering and texturing. The duo used pastels and stark monochromes in two floral stories. While one saw sheer laser cut flowers used as seam inserts embellished with beads, the black-and-white line employed hand- and machine-embroidery with cords and beads to impressive effect.
Sheer Quality
In an extension of her previous Spring/Summer line, Pallavi Singhee of Verb's "A La Suite" continued with her strong and feminine interplay. From monochromes to pearly pinks and pale oranges, all the outfits wore tone-on-tone flowers like fleeting butterflies poised to take flight. Closer inspection revealed that the embroidered and laser cut flowers were then appliqued on to the ensembles for a three-dimensional effect. While organza gave the flowers a stiffer appearance, the base fabrics were chiffons, tulles and Chantilly, creating an interesting combination. Some of the floral appliques were further highlighted with rhinestones and sequins.Read more at:www.marieaustralia.com/formal-dresses-perth