01/06/2015
Think beyond jackets for the ultimate style.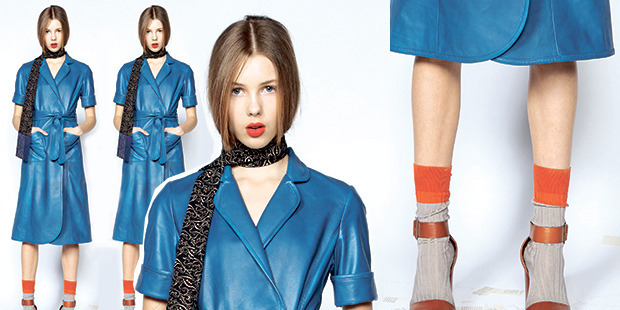 (Photo:formal dresses australia)
Leather will always have its roots deep in rock'n'roll but this season it has been reinvented with more feminine sensibilities.
And there is no better way to illustrate this than with Kate Sylvester's stunning Blythe dress, made from a turquoise Nappa lamb leather.
Another two fabulous options are Hideseekers' Suzi Q dress, the ultimate LBD, and Shen's lambskin leather dress, in a classic shift style. Both pieces are functional and timeless.
Think about layering when it comes to wearing all three dresses - simply add a merino polo neck underneath as the weather cools.
Alternatively, try a leather skirt. Harman Grubisa's divine luxurious leather skirt is on my to-buy list and is styled perfectly with its Melange skivvy. Australian import Seed has a beautiful asymmetrical leather skirt in its collection, featuring a full, floaty skirt and a-line silhouette anchored by cross-over straps on the waistband.
My first introduction to leather was in the 80s with a pair of Jeanmakers leather jeans. They were so tight I had to lie down to get them on.
For a modern spin on this all time classic check out Stolen Girlfriends Club's leather moto quilt pant. Its quilted panelling through the waistband and knees and exposed zip detailing make it the perfect merger of biker chic and fashion friendly style.
These days leather doesn't have to be leather. Moochi's super-cute Harley Culottys are made from a "vegan leather" with a price to match.
A leather jacket is probably the most traditional piece you could add to your collection and the clever people at Neuw have designed the Berlin jacket, taking inspiration from Iggy Pop and the jacket he wore when he was recording in West Berlin in the 70s. There is nothing to not like about this jacket.
For something a little different I love Trelise Cooper's Wadd Up jacket, which balances luxury and toughness perfectly. It's a leather bomber jacket with a quilted front and an elaborate floral motif embossed on the back.
Check out The Line Up for three of my favourite full-sized leather bags this winter - the Montana Hobo from Witchery, Harry & Co's classic Anytime Anywhere and Mr Pomper Cheetah from Deadly Ponies.Raad more at:cocktail dresses