27/08/2015
Lakme Fashion Week: The comeback kids
Kimi Dangor
They took their faltering first steps into the world of fashion on the Lakme Fashion Week (LFW) floorboards. While some launched their labels under these very arc lights, others were ushered in under the GenNext umbrella. This season, some of LFW's coolest finds are back where it all began. As the Winter/Festive 2015 edition of LFW gets underway, starting today, at Palladium Hotel, Mumbai, we gather their insights and inspirations.
Private Matter
He made an indelible impact with his GenNext debut in 2007 and went on to do the LFW finale in a short span of five years, and then, inexplicably, Kallol Datta (pictured) decided to take a step back. The Kolkata designer, who is often credited with leading the anti-fit uprising and popularising motif prints (read snails, cutlery, cats) in Indian fashion, is making his LFW comeback, albeit with a "super micro" presentation. In the intervening years, Datta has sounded the death knell on the 'quirky' print campaign, dabbled in art and jousted with words. His multimedia presentation 'Impasse' on Day Three, on view for a very select audience, will provide a peek into this "work in progress". "In my head, it's less of a collection and more of a personal project," says Datta cryptically.
Pret Perfect
Following a private preview last season, Anand Kabra takes on the LFW ramp after five years with an essentially pret collection. "I'm doing pret my way, with couture-esque details and handmade finer points," says the Hyderabad-based designer, who made his debut here in 2006. So expect easy separates in relaxed silhouettes and a mix-and-match format, but detailed with three-dimensional embroideries, lace trimmings and hand painting on fabric. "It's a western wear line rooted firmly in Indian ethos. So, there's a kurta style converted into a jumpsuit, my favourite lungis and contemporary sari shapes," says Kabra. His favoured colour palette of warm white, black, sand, green, red and gold makes an appearance. "The collection is all about movement, mobility and fuss-free clothing," he adds.
Painterly Vision
She may have made her debut at LFW in 2006, but her subsequent relocation to Singapore and shifting of studio to Delhi, took Nikasha Tawadey away from the Mumbai marquee. "The brand has changed from our laid back Mumbai style to becoming a business-oriented outfit since," says Tawadey. What has also been consolidated is the strong "east meets west" vibe of her label Nikasha, which she brings to the Mumbai ramp after six years. Her collection 'Indira et Amrita' draws inspiration from the glamourous Sher-Gil sisters and their enchanting lives in Hungary, Paris and India. "There is a strong 1920s feel, albeit with a contemporary twist," says Tawadey, who has drawn upon the flamboyance of their lifestyles to create a line replete with artist Amrita's favourite lily blossoms, Art Deco elements, silk fringes, zardozi and French knots.
Monochrome Magic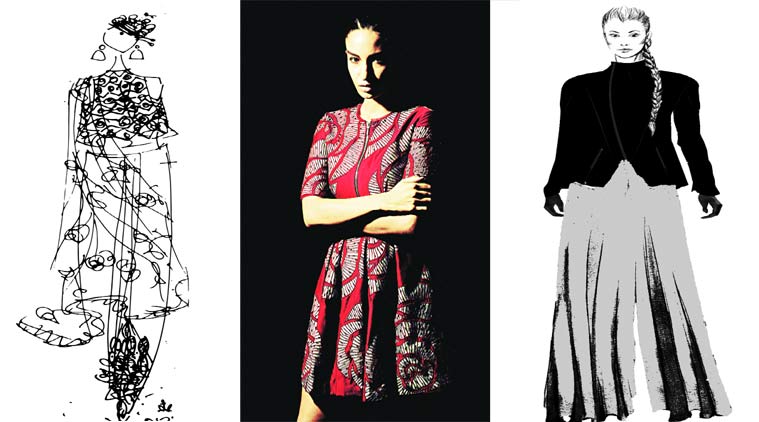 photo:short cocktail dresses
Mumbai lad Nachiket Barve, who made his debut on the GenNext platform in 2007, will return to the LFW fold after four years with his autumn-winter line 'Chiaroscuro'. The move was prompted by the appeal of the "runway to retail" format of LFW. "With the advent of social media, Instagram has become your runway," says Barve. 'Chiaroscuro' (Italian for light-dark) appeals to the avid photographer in Barve, who is inspired by the play of light and shadows. Known for using vivid colours, in this collection Barve uses black and white to paint a graphic collection with raven feathers, Gothic architecture, oversized blooms, Gryphons and Hitchcockian elements, lending the proceedings "a darker edge".
Street Signs
Life has come a full circle for Delhi boy Arjun Saluja. He debuted at LFW in 2006 with a collection inspired by vintage architecture — "that combined straight lines from German construction with the fluidity of Japanese draping". Today, Saluja has honed his structure-meets-drape ideology to an art form, developed a cult following for his unique take on androgyny and is making a comeback to the Mumbai ramp after a gap of five years. He brings a slice of his Essentials range, a derivative of his label Rishta. 'Abandoned' draws inspiration from Indian streetwear with his trademark silhouettes wearing muted colours and "prints of abandoned buildings, walls and emotions". "Mumbai is a big market that we haven't explored in a while. The idea was to push our Essentials line in a more visual format through a runway show," says Saluja.
read more:cocktail dress australia