18/02/2017
Coach's autumn show revels in Americana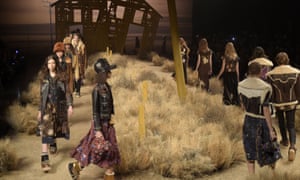 (Photo:formal dresses brisbane)
The popping of flashbulbs made it abundantly clear who was the most important person at the Coach fashion show on Tuesday afternoon in New York: Selena Gomez, the brand's new face and the most popular person on Instagram with 109 million followers.
Once the photographers had calmed down, the former Disney star settled in among the other VIPs – Drew Barrymore and Selah Marley, the daughter of Lauryn Hill – to watch the presentation of the American leather goods brand's autumn/winter 17 collection.
To say that Coach is a brand that revels in its American heritage is like saying that Donald Trump is a bit orange, and it was clear from the outset that this would be another examination of Americana: the set was a spooky, cracked facade of a prairie house. Behind the construction was a projection of a desolate landscape punctuated by wonky telephone pylons, like something from Badlands or Paris, Texas.
The clothes combined Little House on the Prairie prints with hip-hop silhouettes. There were oversized trucker hats fashioned from shearling and ragged shearling coats worn with a swagger over checked smock dresses. In among the earthy tones were pops of colour from Park Ranger-style badges. Padded jackets – a typically urban shape seen all over the streets of New York outside the fashion shows – were decorated with delicate flowers.
Coach was founded in New York in 1941 as a small family-owned wallet manufacturer. Last week, Miles Cahn, one of the company's co-founders, died at the age of 95. It was Cahn's wife, Lillian, who suggested the company branch out into handbags. Over the years it grew to become one of America's most famous handbag lines, although until Stuart Vevers' appointment as creative director three years ago sales had flagged and it had been deemed to lack the cool factor.
In the three years since the Yorkshireman's appointment Coach has explored Americana in multiple ways, with references ranging from Bruce Springsteen to Elvis to Scooby-Doo's Velma.
Like Belgian Raf Simons – another European who riffed on Americana in his debut collection for Calvin Klein on Friday – Vevers' view of American identity was rooted in nostalgia, the past feeling a lot safer than the present this New York fashion week, which is the first to take place under the shadow of the Trump administration.
Vevers' other hits for Coach have included the kind of poppy, attention-grabbing designs that appeal to street style stars, such as brightly coloured sweatshirts featuring Rexy, a tyrannosaurus rex that adorns many of the label's designs and has become the house's very Instagram-friendly mascot.
Though today's collection was for the premium Coach 1941 line, the buzz it generates will have a halo effect on the company as a whole. And, with charms at around £50 and plenty of handbags at the £250 mark, some items in the Coach range are relatively affordable – in designer fashion terms, at least – which makes the star of today's show, Selena Gomez, the brand's ideal ally.Read more at:formal dresses melbourne