10/05/2017
5 ways to 'mom-per'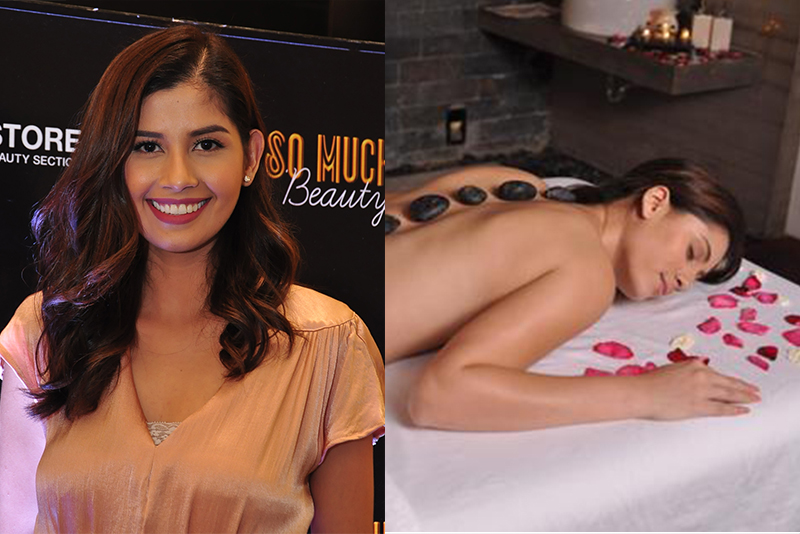 (Photo:marieaustralia.com)
TV host and Academy Award-winning actress Oprah called motherhood "the toughest job in the world," and it might just be.
Being the light of our homes, mothers have always been tirelessly and selflessly providing for their loved ones. Thus, on this special day, we want to encourage all the mothers to treat yourself to a well-deserved pampering. Whether it is with makeup, fragrances, or beauty treatments, feel free to give your mom some love by indulging on the things that make her happy.
Facial masks, hair spa at home
Moms, according to a beauty expert, put their family ahead of themselves.
So, this Mother's Day, Vicki Encarnacion Marketing Director for beauty and wellness company Watsons Philippines, invites moms and their families to "mom-per," that is, to pamper the most important woman in their lives and shower her with lots of love and beauty rest.
To make moms "less guilty" when shopping to pamper themselves, Watsons recently launched "Members Get More" campaign where members get more savings, more points and more value in more than 500 Watsons stores nationwide. The campaign, says Encarnacion, gives shoppers more reasons to come back to Watsons by giving more rewards and exclusive privileges to card-bearing customers.
Cardholders who shop at Watsons will be entitled to "members only" promotions that allow them to earn more reward points, which they can also use to pay for their next purchases. Members can also enjoy more discounts, as they can choose from hundreds of products on member price.
They can also get exclusive freebies and easily join eRaffle promotions exclusive to members such as the recent "Make Your Summer Promo," where members get a chance to win a trip for four to any of 5 local summer destinations. Members will also be the first to be notified of upcoming deals and offers and can receive invites to exclusive events. Also included in the Watsons loyalty program are SM Prestige and BDO Rewards card.
"At Watsons, we want to make our shoppers special. So we make sure they enjoy perks of being a loyal customer every time they visit our stores. With the Members Get More program, they can get more savings, more points and even get exclusive prices simply by using their SM Advantage Card," says Encarnacion.
For Mother's Day, she recommends 'mom-pering' through skincare, body care, hair spa, facial masks, and other beauty products that enable moms to pamper themselves even at the comforts of their own home.
Give mom a summer makeover
Eyebrows on fleek, lipstick applied flawlessly and foundation blended seamlessly are only some of the things we want to learn how to do. All of us, those who wear makeup at least, seek to improve our techniques. We want to be updated on the latest trends, which include drunken blush, gradient lip, fake freckles and strobing, among others.
We loved 2016 but we're ready to launch a new routine. To do that, we need to recharge our makeup kits and learn from the masters. We also have to score the latest and hottest products and where else to get that but at The SM Store Beauty Section.
Makeup artists know where to go when they need something for their clients and that's The SM Store Beauty Section, the Philippines' biggest beauty retailer. From the dazzling interiors to the sheer amount of global brands at your fingertips, SM Beauty lives up to its status as a haven for women longing for a unique beauty experience.
For 2017, makeup artists took part in a fabulous Glam Session at the SM Beauty Section of SM Makati. Guests got a peek of what's hot right now and what to look forward to in the coming seasons in terms of makeup. Over 200 of the best makeup artists in the Philippines were in attendance during the event, which also served as a shopping party for them.
SM Beauty Glam Session was more than an event filled with beauty and glamor. It celebrated the long and solid relationship and association between SM Beauty and these makeup artists.Each makeup artist present during the event received an SM Beauty PRO-Card, which entitles him or her to a 10% discount for purchases at the SM Beauty Section. Further, the PRO-Card holders enjoy perks from the store, such as first dibs on new collections and exclusive invite to events.
The SM Store Beauty Section is the biggest beauty store in country offering "So Much Beauty" with the widest range of cosmetics and fragrance products in the country. The flagship store in SM Makati spans almost 2,500 square meters, housing almost 200 of the most esteemed local and global beauty brands.
The Cosmetics and Skin section are aglow with brands like Dior, MAC, Clinique, Aveda, Kiehl's, Glamglow and so much more. The luxury fragrance line up boasts of Prada, Nest, Lalique, Atelier Colognes, ThieryMugler, Guerlain& Jean Patou among others. At SM Beauty, you can also find your favorite masstigebrands, including BYS, Happy Skin,Pixi, Ofra, K-Palette, Nyx, The Body Shop and more.
Explore the world at SM Beauty, which offers the best of the best from makeup to skin care to fragrance brands. Play with textures and colors as you find your perfect look.
SM Advantage, Prestige and BDO Rewards Card holders alsoget exclusive discounts and promos at the The SM Store Beauty Section.
'Infallible' makeup for mom
Tired of makeup that fail and melt down on oily skin?
L'Oreal Paris recently launched Infallible Pro-Matte 24-hour Foundation, formulated for oily skin. It promises to deliver 24 hours of long wear and resists oil, sweat, and caking, making it the ideal foundation for hot weather. Its air-light texture and matte powder finish aims to give a comfortable wear from day until night.
The foundation's formula is packed with mattifying perlite mineralts that act like a blotting paper in absorbing excess oil and sweat, for a shine-free look all day.
Complete your look with Infallible Pro-Contour, which contours and highlights in one stroke. Its special applicator allows users to sculpt cheeks, nose, forehead, and jawline with one sweep of the brush.
Seventy-five women from Barangay Sto. Nino in Marikina City will receive skills training in hairdressing from L'Oreal's team of hair professionals this year as part of L'Oreal Philippines' "Beauty for a Better Life" program developed to gift underprivileged communities with a free, international and high-quality training. The program will take trainees through three months of classes capped by an internship at a Metro Manila salon.
Led by the L'Oréal Foundation and implemented in different countries, "Beauty for a Better Life" is one of the Foundation's key programs to help women in difficult situations regain their dignity, humanity, and femininity and help them reintegrate into society. Philippines becomes the 26th country in the worldwide line-up of L'Oréal subsidiaries who implement the global program.
"Fulfilling our role as a great citizen, we at L'Oréal Philippinesbelieve that beauty has the power to change lives. Beauty contributes to feeling better and living better, and gives women that extra boost of confidence they need to truly feel their best. But in a deeper way, beauty can positively impact and improve lives through programs like "Beauty for a Better Life" which, beyond uplifting spirits, accompanies women on the path to employment," explains Carmel Valencia, L'Oréal Philippines Corporate Communication Manager.
"Confidence can be like a "light at the end of the tunnel" for women who have encountered difficult situations in their lives. We believe that education provides the freedom to choose and build one's future. Conscious that a large segment of the local population in the Philippines live below the poverty level, the L'Oréal Foundation and L'Oréal Philippines have made it our mission to redefine how 'Beauty' can impact the quality of life in these areas, not just through the brands that we carry but also through new avenues that offer a better tomorrow."
Try wine-infused waxing
Thinking of going on a trip for the holidays? Get into the spirit of the season and make sure you stay confidently beautiful enough to bare wherever you go with STRIP's limited-edition Mulled Wine Wax.
Following the same well-loved formula that Strip has been known for, Mulled Wine Wax is perfect for those who are thinking of getting Brazilian or Boyzilian for the first time. It is infused with the warm and festive scent of red wine, orange, cloves, and cinnamon, which is sure to get you into a holiday mood.
Packed with the healing effects of aloe vera and chamomile, Strip's waxes are known for significantly reducing any discomfort that is often associated with waxing, making it ideal for use on sensitive areas. In addition, it also helps keep waxed areas well-hydrated, and even brightens it with regular use.
Strip currently has three locations in the Philippines, including Serendra, Greenbelt 5 and Mega Fashion Hall.
Staying true to their commitment of making waxing and brow grooming services available to all, Harem Inc., the company behind Strip and Browhaus Manila formally introduces their loyalty plus cards.
"We, at Strip and Browhaus, always strive hard to give the best service for our patrons. With our loyalty plus cards, we want show our appreciation for their support by rewarding them for each time they avail of our services," said Strip & Browhaus chief executive officer and founder Cynthia Chua, who flew all the way from Singapore in time for the launch of the loyalty cards.
These cards allow their patrons to earn points that can be used to pay for services at any Strip and Browhaus branch. They also double as ATM and debit cards that can be used to purchase online.
"We are also working on exciting partnerships that will allow our patrons to use the cards for international purchases. So please watch out for that," said Cynthia.
Protect your hair from the sun
Everyone knows that being out in the sun is bad for your skin. But what about your hair? Whether you are walking to and from class or work or lounging around enjoying the summer sun in leisure—exposing your hair to the elements can make your strands feel fried, frizzy, and lifeless.
"Excessive exposure to ultraviolet rays (UV) can make hair look and feel dry, dull, and brittle from the outside. Sun exposure attacks the basic building blocks of hair – the proteins, therefore compromising your hair." says Saint Tiu, Procter & Gamble's Senior Scientist for Asia Pacific.
A typical hair fiber can contain as much as 90 percent proteins. When hair is exposed to UV, the light radiation negatively affects almost everything that comprises the hair structure. This may cause hair dryness, reduced strength, rough surface texture, loss of color and luster, stiffness and brittleness.
Filipino women, in particular, are born with dark hair which contains more photo-sensitive proteins. This means it will have greater protein loss when exposed to UV, not to mention the damage that tropical humidity can inflict on your strands – especially so during the summer when the UV index peaks and is at its highest.
Pantene Pro-V Summer Rescue Shampoo and 3 Minute Miracle Summer Rescue Conditioner are a hair care regimen specifically created to address hair's needs during the summer. The simple two-step system helps prevent damage caused by UV exposure by leaving hair strands with deep moisture and a protective shield. The conditioner also has the Pro-Vitamin formula that contains 40 percent more Deep Repair Essence so you get more actives to restore your hair's health. The Pro-Vitamin formula penetrates deep into the hair's inner core, and leaves a thin layer of protective shield to prevent against future UV damage, leaving the hair silky and not sticky.
Gabbi Garcia will be the first Filipina Pantene ambassador for Asia. Gabbi, a budding actress in Philippine show business, is just one of the millions of Filipinas who are exposed to extreme heat and hair damage. To prove the benefit of Pantene Summer Rescue, Gabbi shot her latest Pantene commercial under extreme heat of the Australian desert at 45 degrees Celsius.
As she is always out and about for photo shoots and film tapings, it is important for Gabbi to find a hair care regimen that is easy to use and simple to follow, while ensuring that it consistently delivers a clean, refreshing feel, perfect during summer's hottest days.Read more at:formal dresses sydney