21/06/2017
A Different Lind of Pop Up Gives Costumer a Fashion Week Preview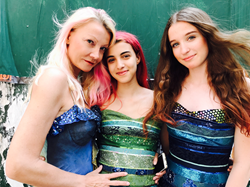 (Photo:formal dresses australia)
The Journey Fashion Festival by Malena Belafonte has made a mark in the fashion industry by creating exactly what the name says, a fashion festival. The shows are creative with visuals and experiences coming at you from every angle and the surrounding events are enticing to consumers and editors alike.
In a perfectly located storefront right off of 5th Avenue, close to Bryant Park which was the former host of Fashion Week, costumers are experiencing a preview of what is to come during New York's Fashion Week in September 2017. Browse designer collections, try on gorgeous diamond dripping jewelry, sip a glass of wine while getting a make over. Meet the designers and experience what the sponsors have to offer.
Sennheiser created a great lounge to experience the newest pro audio gear and walk away with some of the most high tech headphones in the business. Meet the team behind Fly Nyon, a new helicopter experience for the thrill-seeking millennials who love taking selfies while dangling over Manhattan, Vegas or Hawaii during the open cockpit tours. Dazzle in spectacular diamond jewelry by KVO Collections and meet the designing sisters who have created a classy, beautiful and very sparkling collection that you can wear everyday as well as on the red carpet.
"We wanted to bring The Journey designers, sponsors and brands directly to the consumer," says Malena Belafonte, the Creator and Founder of The Journey Fashion Festival. "The end game for a brand is the public and the consumer, but we also wanted to stay true to our vision and our brand which is a different fashion experience from beginning to end. At our boutique you get to meet the people behind the brands which creates and promotes integrity, something that can sometimes lack in the fast paced, yet complacent industry that is the fashion industry."
Make up artist to the Stars Kim Baker is on hand for consultations and make overs. Her brand Glamazon Beauty is a new make up line for women of all color. Egami Collections takes you back in time when tailored suits were all the rage, only to throw you right into the hottest designs, fabrics and details culminating in fabulous suits. Designer Henry Picado greets everyone at the door both visually and personally with his larger than life personality that shows in every design throughout his red carpet collection. Handbags made of the softest Italian leather by designing duo Laurent & Altieri, perfect for the city yet with a European flair sums up this perfectly curated experience that is The Journey Fashion Festival. In addition to the many other brands the store has a bar, is filled with art work and features collections by Russian artist and designer PopImpressKA.Read more at:evening dresses